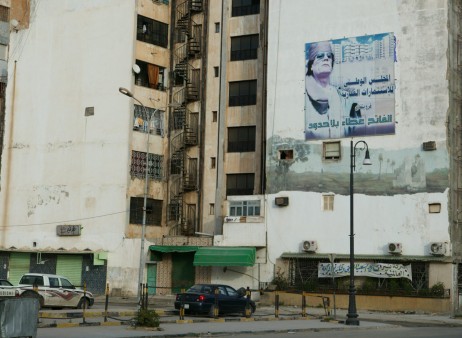 I'm sorry for those who didn't visit before destruction.
Although Khadafy "may have been a little bit mad", Libya was a wonderful country which most of the European countries will jealous. In this article I'll describe some things that they attract my attention about the country but, in my photogallery I'll describe the archaeological finds.
The Town (Benghazi)
Nowhere would you see beggars, what a wonderful sensation to walk without to "bloat" for a few changes, it was prohibited by the law (amazing), the citizens were not too rich, but they didn't need to beg. In the old town the situation was a little bit worse (it was like Fez in Morocco, but more civilized). People were poor, dirty and miserable BUT there was no homeless, education and medical care were free (on high level) and the best…they weren't so isolated from the western world as we supposed. In their homes, they all had TV; they also had billiard pools, shisha and play stations with pro to play on teams (2vs2), and whatever is needed for one's entertainment.
Speculation: Unfortunately I have difficulty to believe that the resistances against Kaddafi rose by the citizens alone. Many Libyans were saying that the state was strict and they were feeling opressed, but their lives weren't so bad. Kaddafi was closing his eyes quite often, to permit a better life for his citizens. An example is that of the gentleman who gave us hospitality. He had his own wine (although it was prohibited) and he was had the permition to offer it in private events. The fun was that except us, who were Christians, wine was drunk also by Libyan citizens. Of course in Libya we met extremities, for example, an agreement between Greek and Libyan Universities was planned to be signed by the rectors, but the signatures was delayed by Kaddafi who, in that same morning, decided to exempt the Libyan rector from his heavy responsibilities, so they didn't know who was to sign for the Libyan side. Beside that, I saw a living level, which I doubt if the mass would be willing to lose (as it unhappily started to happen).
At last I'll describe the funny side of the trip
1st At the airport the balance seemed to have been stolen from the butcher's and the flying board was hand written.
2nd the employee who was weighting the luggages couldn't summarise the weight of the seven bags, so he was trying to balance them all together (what failure, I didn't take a picture of him)
3rd our guide loved the word of course. So we made a bet on how many "of course" he would say in four minutes. I underestimated him and bet on 4 but my opponent bet on 7-8. In the first and a half minute he had already said four, but someone of our group cut him the verve so the chronometer stopped exactly at 8.
Finally, our driver who was fro India, was an exact replica of Harundi Bakshi, in the film "The Party". There I realized for the first time what a great actor Peter Seller was.
That was the general view of our trip to Libya, before the Arabic Spring. I'm expecting revisit the country when the situation will cool down, I am sorry to believe that I will see Libya many years retrograded.